Throughout the week, I read a lot of blog-posts, articles, and so forth, that has to do with things that interest me:
data science
data in general
distributed computing
SQL Server
transactions (both db as well as non db)
and other "stuff"
This blog-post is the "roundup" of the things that have been most interesting to me, for the week just ending.
Misc.
Domain Driven Design
Building Domain Driven Microservices. This blog post covers various concepts, strategies, and design heuristics to consider when you go into the world of microservices. More specifically when you to break a monolith into multiple domain-based microservices.
Streaming
WIND (What Is Niels Doing)
Wow! We are already in July - where has the first part of the year gone? Let's hope that the rest of the year will be better than the first half!
So, in last week's roundup, I wrote these are nervous times right now, as it is MVP renewal time. The renewals should happen Wednesday, July 1st. I can say I was not that productive that day, as I mostly refreshed my email client to see whether there was an email saying if I were renewed or not.
The day dragged on, and I heard from some of my fellow MVP's how they had received their renewal emails - that did not make me feel any better, and then I received this: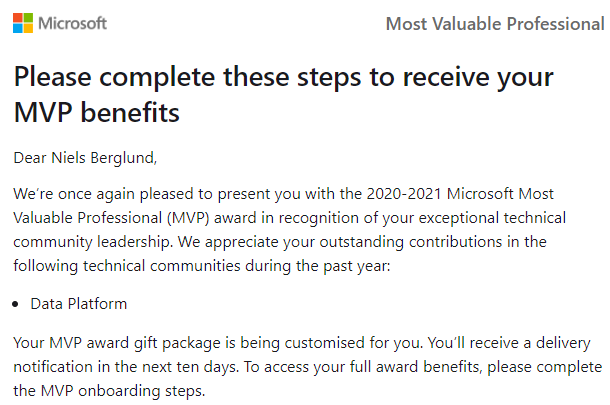 Figure 1: MVP Renewal
Phew, I am renewed for another year. Thank you, Microsoft!
Ok, enough about that. This week on Tuesday, (July 7th), the Azure User Group here in Durban have our monthly News and Catchup meeting. If you want to come and hang out, (virtually), the link is here. See you Tuesday!
~ Finally
That's all for this week. I hope you enjoy what I did put together. If you have ideas for what to cover, please comment on this post or ping me.
---
comments powered by

Disqus