Throughout the week, I read a lot of blog-posts, articles, and so forth that has to do with things that interest me:
AI/data science
data in general
data architecture
streaming
distributed computing
SQL Server
transactions (both db as well as non db)
and other "stuff"
This blog-post is the "roundup" of the things that have been most interesting to me for the week just ending.
Machine Learning / AI
Need for Data-centric ML Platforms. When we do ML projects, it comes naturally to have a model-centric approach to the project. This Databricks blog post argues that having a data-centric view increases the chances for success. Very interesting!
Big Data
Azure Data Explorer and the Kusto Query Language. This blog post is part one of a two-part series looking at Azure Data Explorer (ADX) and Kusto; its query language. This post introduces ADX and looks briefly into what you can do with Kusto. After having read this post, I look forward to part two!
Update on geospatial functions. In last weeks roundup, I mentioned a post about geospatial functions in Apache Pinot. The post I link to is also about geospatial functions, but this time in Azure Data Explorer. Man, you can do some cool stuff with geospatial queries!
Get Your Free Copy of Delta Lake: The Definitive Guide (Early Release). Databricks has for a long time been talking about the Lakehouse architecture and how their Delta Lake table format can help create Lakehouses. This post announces the first book about Delta Lake and Lakehouses. I have already downloaded the book, and I suggest you do the same.
Streaming / Data Architecture
Saxo Bank's Best Practices for a Distributed Domain-Driven Architecture Founded on the Data Mesh. I have covered posts about the Data Mesh in quite a few previous roundups, and this post is another one around data meshes. It looks at how Saxo Bank in Denmark has moved to a domain-driven data architecture with Kafka as an integral part and the lessons learned/best practices. The post also contains very, very useful references! The post is a must-read if you are interested in data architecture!
WIND (What Is Niels Doing)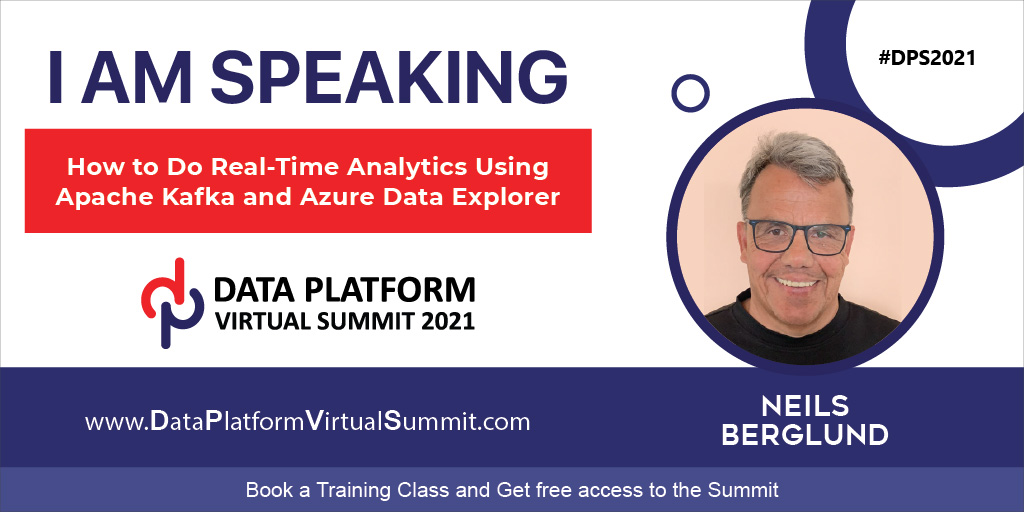 Figure 1: I Am Speaking
As I mentioned in the roundup for week 24, I am speaking about Apache Kafka and Azure Data Explorer at the 2021 Data Platform Summit. So right now, I am researching and prepping for that.
~ Finally
That's all for this week. I hope you enjoy what I did put together. Please comment on this post or ping me if you have ideas for what to cover.
---
comments powered by

Disqus