Welcome to this week's exploration of the ever-evolving tech landscape! We're delving into the seismic shifts at OpenAI with the surprising departure of Sam Altman, and uncovering the transformative power of Retrieval-Augmented Generation in enterprise AI.
Get ready for a deep dive into OpenAI's latest innovations, including DALL-E 3, GPT-4 Vision, and GPT-4 Turbo, and join me on a personal journey of building a custom GPT application.
Plus, we'll explore the critical role of ISO 20022 in modernizing payment architectures.
This week is all about groundbreaking developments and personal adventures in the world of AI and streaming technologies!
Generative AI
Streaming
Modernize Payments Architecture for ISO 20022 Compliance. This blog post explores the evolving landscape of the payments industry and the critical role of the ISO 20022 standard in this transformation. ISO 20022, a multi-part international standard, aims to unify the language and model for payment data, enhancing the quality and efficiency of the payment ecosystem. The article emphasizes financial institutions' need to overhaul their payment architectures and infrastructure by November 2025 to comply with this standard. Confluent's data streaming platform is presented as a solution to bridge the gap between legacy systems and the new standard, enabling seamless data translation and interoperability. The post delves into how Confluent's features, such as real-time data processing, scalability, and security, make it an ideal platform for building a modern ISO 20022-compliant payments system. This transition is not just a compliance requirement but an opportunity for financial entities to modernize their payment platforms and leverage real-time applications like fraud monitoring and risk management.
WIND (What Is Niels Doing)
I am prepping for this: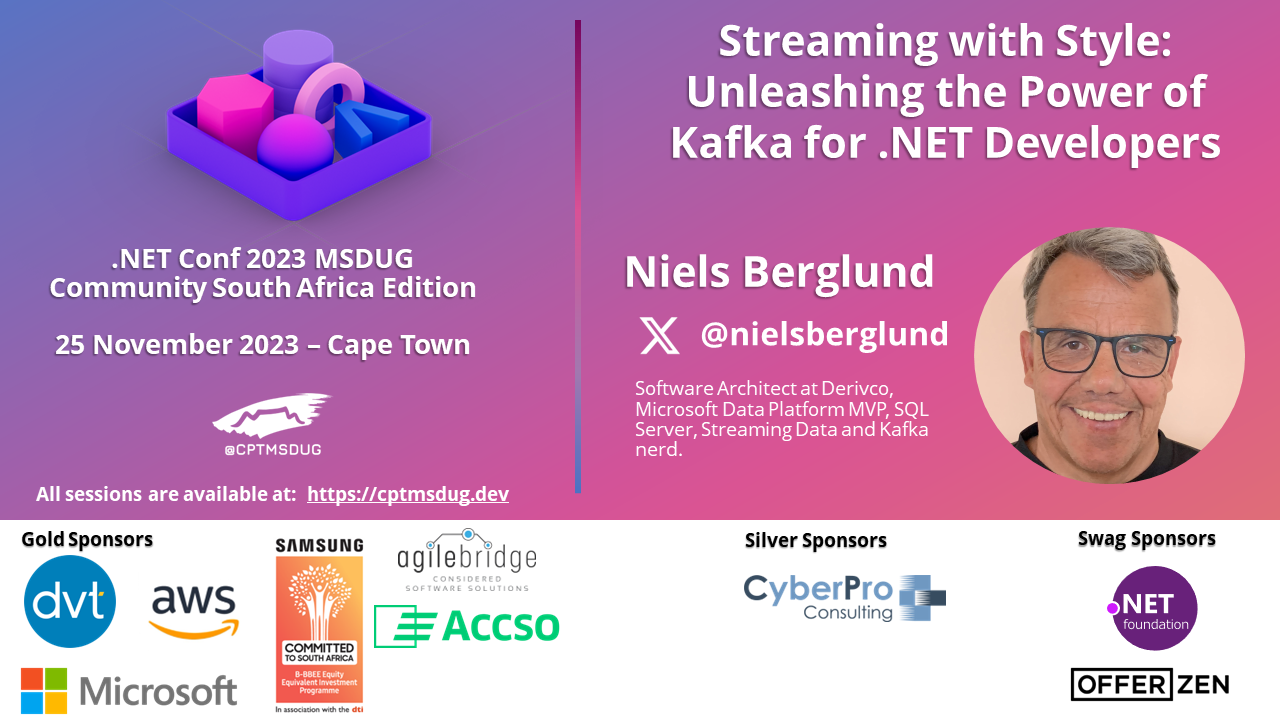 Figure 1: .NET Conference Cape Town
I am presenting "Streaming with Style: Unleashing the Power of Kafka for .NET Developers" in Cape Town on November 25th. I am looking forward to this. I am also presenting this session next week at the Johannesburg leg of the conference.
~ Finally
That's all for this week. I hope you enjoy what I did put together. Please comment on this post or ping me if you have ideas for what to cover.
---
comments powered by

Disqus