Throughout the week, I read a lot of blog-posts, articles, and so forth, that has to do with things that interest me:
data science
data in general
distributed computing
SQL Server
transactions (both db as well as non db)
and other "stuff"
This blog-post is the "roundup" of the things that have been most interesting to me, for the week just ending.
.NET
Distributed Computing
Databases / Storage
Mind Your State for Your State of Mind. A paper by Pat Helland, where Pat explores the evolution of computation from a single process to microservices, the evolution of storage from files to key-value, and how they interact. Just as a side-note, you should read anything by Pat. He certainly knows what he is talking about!
Streaming
Cloud
Data Science
SQL Server Machine Learning Services
The third post in the Install R Packages in SQL Server ML Services series, which I promised a couple of weeks ago would soon be finished has to wait a bit. Reason for this is my prep for the upcoming SQL Saturdays.
As usual I present in Johannesburg, Cape Town and Durban: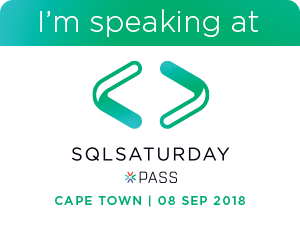 Even if you are not interested in the topics I present, please register and come and listen to a lot of interesting talks by some of the industry's brightest people.
PreCon
This year I also do precons in Cape Town and Durban on the Friday before the SQL Saturday event. My precons is a day where we talk about SQL Server Machine Learning Services, what it is and what we can do with it. It is in a format so if you want you can bring your laptop and code along as the day progresses.
The precon is not free, but hey …
Even though the titles of the precons are different, I cover the same material.
~ Finally
That's all for this week. I hope you enjoy what I did put together. If you have ideas for what to cover, please comment on this post or ping me.
---
comments powered by

Disqus