Throughout the week, I read a lot of blog-posts, articles, and so forth, that has to do with things that interest me:
data science
data in general
distributed computing
SQL Server
transactions (both db as well as non db)
and other "stuff"
This blog-post is the "roundup" of the things that have been most interesting to me, for the week just ending.
The content this week is a bit meagre, due to me not having had time to browse around that much, as I have been "prepping" for the upcoming SQL Saturdays.
SQL Server
Big Data
Hadoop for Beginners- Part 1. The first post in a series about, as the title says, Hadoop. This series is really worthwhile reading if you are interested in what Hadoop is and what it can do for you.
Streaming
SQL Saturday
In a couple of previous roundups I have mentioned that the SQL Saturday "season" is here, and yesterday, (September, 1), I flew out to Johannesburg and did a presentation about SQL Server Machine Learning Services, Overview SQL Server Machine Learning Services to around 40 people.
The event was a smashing success thanks to the awesome arrangements by Michael Johnson and his fellow volunteers!
Having done Johannesburg, next in turn is Cape Town: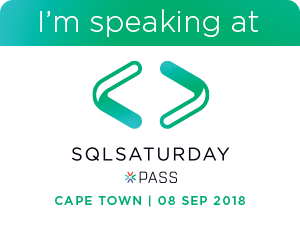 and finally Durban:
Even if you are not interested in the topics I present, please register and come and listen to a lot of interesting talks by some of the industry's brightest people.
PreCon
This year I also do precons in Cape Town and Durban on the Friday before the SQL Saturday event. My precons is a day where we talk about SQL Server Machine Learning Services, what it is and what we can do with it. It is in a format so if you want you can bring your laptop and code along as the day progresses.
The precon is not free, but hey …
Even though the titles of the precons are different, I cover the same material.
~ Finally
That's all for this week. I hope you enjoy what I did put together. If you have ideas for what to cover, please comment on this post or ping me.
---
comments powered by

Disqus