Throughout the week, I read a lot of blog-posts, articles, and so forth that has to do with things that interest me:
AI/data science
data in general
data architecture
streaming
distributed computing
SQL Server
transactions (both db as well as non db)
and other "stuff"
This blog-post is the "roundup" of the things that have been most interesting to me for the week just ending.
Databases
Streaming
Why query planning for streaming systems is hard. This post looks at some of the issues of doing query plans for streaming systems. Really interesting, and I would like to hear more about this.
Cooling down hot data: From Kafka to Athena. The post linked to looks at how to move data from online Kafka Clusters to a data lake for long term data retention, analytics, legal requirements, and as input for machine learning.
Introducing Confluent for Kubernetes. This post looks at Confluent for Kubernetes (CFK), a cloud-native control plane for deploying and managing Confluent in private cloud environments. It provides a standard and simple interface to customize, deploy, and manage Confluent Platform through declarative APIs.
WIND (What Is Niels Doing)
A couple of days ago, I received some very good news: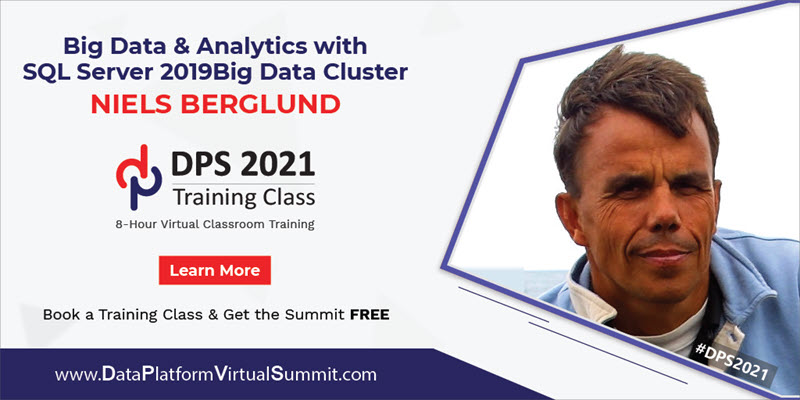 Figure 1: Big Data & Analytics
As you see in Figure 1 I will be giving a training class at the 2021 Data Platform Summit. The class is Big Data & Analytics with SQL Server 2019 Big Data Cluster. So right now, I am creating the content for that class - it will be awesome.
If you are interested, sign up for the class. When signing up, you also get free access to the Summit! Hope to see you there!
~ Finally
That's all for this week. I hope you enjoy what I did put together. Please comment on this post or ping me if you have ideas for what to cover.
---
comments powered by

Disqus